Naching T. Kassa is a wife, mother, and horror writer. She's created short stories, novellas, poems, and co-created three children. She lives in Eastern Washington State with Dan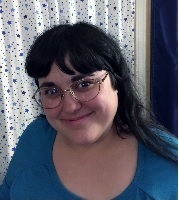 Kassa, her husband, and biggest supporter.
Naching is a member of the Horror Writers Association and a Writer/Interviewer for HorrorAddicts.net. Her latest short story, "Audition," can be found in the anthology, Crescendo of Darkness.

Naching is a strange and busy lady. Today, she hands the interview reins to the person who knows her best, Nani K.
Nani K: Welcome to Chilling Chat, Naching! Thank you for joining me today. It's been a while.
NTK: Yes, the last time we spoke was during the Next Great Horror Writer Contest. You grilled me.
Nani K: (Laughs.) I did. But, I still have questions for you.
NTK: Ask away!
Nani K: How old were you when you discovered horror?
NTK: About three. My father introduced me to King Kong when it appeared on TV. I also had weird dreams. One of these involved a demonic sandwich.
Nani K: What? A demonic sandwich?
NTK: I slept in a bunk bed and my older sister slept above me. I thought the corner of her blanket was a sandwich with wings and vampire teeth. I have a rather vivid imagination.
Nani K: I guess! Is that why you wrote "The Face" the way you did? It's frightening but, it's also funny.
NTK: I wanted to write something different, something kids could enjoy as well as adults. Campfire Tales are usually told by children and I think funny and scary go hand-in-hand. Look at Scooby Doo or Abbot and Costello Meet Frankenstein. The two most memorable things in the world are things that frighten us and things that make us laugh.
Nani K: Did you write this story with a certain person in mind?
NTK: I actually wrote it for my 12-year-old grandniece. (Hi, Mylie!)
Nani K: Do you often write for a certain reader?
NTK: Yes. I write for my husband. If he reads the story while watching football, and doesn't look up at the screen, I know it's a good story.
Nani K: What do you think makes a good story?
NTK: As a fan of Sherlock Holmes, I'd have to say characters. It's their decisions which shape and drive the narrative. Sherlock Holmes has so many quirks. He can solve mysteries using minutiae, disguises himself (even his roommate can't recognize him,) and has a code of ethics that sometimes goes beyond the law. When Doyle killed him off, people mourned him. (They even wore black armbands!) They treated him as though he were a real person. The best stories have believable characters. And, a moderate amount of description.
Nani K: You don't like description?
NTK: Too much description bores me and I skim through it. As a reader, I like using my imagination. Give me an idea of how things look. Don't describe every little crack in the wall or fiber in the carpet.
Nani K: What is your writing process like?
NTK: Usually, I start with one scene and allow the characters to work toward it. The germ of one story began with a vampire sitting in a lawn chair outside the window of a house. Another, involved a small girl handing a woman a river rock.
Nani K: Why do you write horror?
NTK: I enjoy scaring people. When I was little, and it was dark, I'd hide in the doorway of my bedroom. When people passed by on their way to the bathroom, I'd jump out and yell "Boo!" They didn't like it at the time, but they laughed later. I think people enjoy that little rush of adrenaline, that feeling when your heart speeds up and your skin tingles. That's why they love horror books, podcasts, and films.
Nani K: Speaking of horror films, what's your favorite?
NTK: My favorite horror film is The Exorcist III starring George C. Scott and Brad Dourif. It was released in 1990 and it's terrific. Very subtle, not as "in your face" as the first. William Peter Blatty wrote the original novel it was based on and the screenplay. He also directed the film. There are some serious scares in it. One has to do with a nurse on her rounds in a hospital. Brrr!
Nani K: Do you have a favorite horror TV show?
NTK: I love The Twilight Zone, The Outer Limits, Thriller (Watch "Pigeons from Hell" it has a silly title but it's terrifying,) but two of my favorites are Kolchak: The Nightstalker and Supernatural. Love my monster hunters. You can't get much better than Carl Kolchak and Sam and Dean Winchester.
Nani K: Do you watch The Walking Dead?
NTK: Sorry, not a zombie person. I like monsters who have brains, not those who eat them.
Nani K: Do you have a favorite horror novel?
NTK: I have two. They're the only books which actually frightened me. The first is Psycho, by Robert Bloch. The second is Watchers by Dean Koontz. Highly recommended.
Nani K: What is your favorite campfire tale?
NTK: My most favorite is, "The Man with the Golden Arm." It's about a man with a golden arm and the thief who steals it after he dies. The ghost haunts the thief in a rather surprising way.
Nani K: Naching, what does the future hold for you? What works do the Horror Addicts
have to look forward to?
NTK: Well, aside from "The Face," I have a few things coming out for HorrorAddicts.net, a story in an upcoming anthology, and I'm working as a temporary intern for Crystal Lake Publishing. Oh, and my poem, "Call Me Mary," just came out in the Horror Writers Association Poetry Showcase Vol. V.
Nani K: Thank you for chatting with me again, Naching.
NTK: Always a strange and surreal pleasure, Nani K.
Addicts, you can follow Naching on Twitter and through her website.