By the light of day, David Mark Stashko practices social work with special attention to addiction, recovery and homelessness. He is also an avid cryptozoologist and paranormal/supernatural explorer. He writes books and speaks about these topics in various circles and under the moniker of "Light, Darkness and Dreamscapes."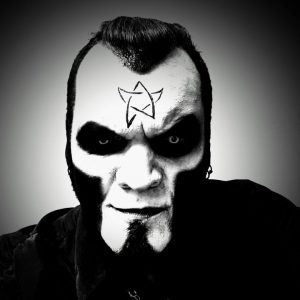 At night, David often transforms into Lucifer Fulci, a character he created in 1994 for death rock legends, Penis Flytrap. Since the inception of Fulci, he has created/participated in horror conventions, numerous solo records, multiple extreme horror books, various short movies, music videos and is the co-creator of his current band, LORDS of OCTOBER, with fellow author and filmmaker, Paul Counelis AKA Uncle Salem.
Fulci is partnered with his Wife, Scarah Stashko, who creates the majority of the art for all his projects and is his morbid media muse for all things strange and beautiful.
Lucifer is an amazing writer and musician with a terrific sense of humor. We spoke of the paranormal, writing stories vs. music, and H.P. Lovecraft.
NTK: Welcome to Chilling Chat, Lucifer! Thank you for joining me today.
LF: Of corpse. I am honored to be here. Horror addicts rules. Thank you for having me
NTK: How old were you when you first discovered horror?
LF: I was probably about 7 or 8. I saw a commercial for The Exorcist on the tele and told my parents that I wanted to watch it. They told me not to, and if I did, I could not sleep in bed with them. I watched it.
And then I went to sleep in bed with them
Since then, I have had the infection of horror.
NTK: (Laughs.) Is The Exorcist your favorite horror movie? If not, what is?
LF: That is the loaded question of all time. To answer it plainly, it might be. I simply cannot say.
To give you a longer answer, a more real answer, it changes from time to time.
So, for today, I have been having a love affair with Dawn of the Dead again. And Zombie.
But The Exorcist has to be the one that will always remain closer to my little black heart
and a million more. I love so many of them and so many are meaningful to me. Really, it is so hard to say.
NTK: What is your favorite horror television show at this time?
LF: Lovecraft Country, most likely, as I have just discovered it and am having a love affair with it. Also, Raised by Wolves is a close second…for right now.
I finally finished the Outsider and love that, too, but not as much as those other two.
NTK: Lovecraft Country is based on a book. Do you have a favorite horror novel at this time?
LF: That is another loaded question. It is easy for me to say that I have a few all time faves, like Ninth and Hell Street by Chas Balun and Off Season by Jack Ketchum, but I also love to say how I love my own books a lot. That is kind of cheating…but each time I open an old one up, I think like, if I had not written it, I would love to be reading it. I recently read a portion of my book Vile Witches for an event called The Fall of April Ghouls Days…and I found that I actually enjoyed it greatly. But I dunno if that is cheating, to answer it like that.
NTK: (Laughs.) I don't think so. What author has influenced you the most?
LF: Lovecraft, for sure. It was Chas Balun who really mentored me before my first novel, and I love his work, but over the years, Lovecraft has influenced me so much in my writing, in my music..its undeniable.
NTK: Did his work inspire any of your stories? What inspires you in your writing?
LF: Yes, by all means, there are a ton of short stories, like in my Collection of Horror series, just all over there, but I have a novella called The Elder Thing that was greatly inspired..and Wormutanous. I love my Howard Phillip.
It all depends on what inspires me..
its like..
Really, I get inspired by so many elements of the supernatural…music…Halloween…love stories, too. And then it's just what I feel..and I try to not do the same things all the time..but that happens sometimes.
I used to want to make the goriest book ever made..and then I kept outdoing it..again. And again.
So yeah..
All kinds of things…from another world.
NTK: You've mentioned music and you're a musician as well. Do you feel writing songs is the same as writing stories? Or do you feel you have to use a different part of your brain for each?
LF: Good question. It is similar, in many ways, yes. There is a lot of me that, when I create, it just sort of happens. When I sit at the keys and type, and the same with music…and then I try to organize it. I would have to say that with music, I have, so far, a broader range of emotion. I have a lot more love songs that I do stories about love.
NTK: What inspired "Blasphemy?"
LF: That is a kind of funny story, because like I was saying before, I have tried to outdo one gore book over another..over the years..but for this one, I felt a real desire to touch into the satanic type of realm. Just for fun. Not to mention, I had made a new friend around the same time. Her name is Soma and some of her images, art, creation, they inspired me. She is also the cover model for that book. So, in a lot of ways, she inspired me…but it is a work of fiction. She is not really a demon…or is she? (Laughs.)
NTK: Do you outline your books and stories? Or do you write by the seat of your pants?
LF: Definite outline. I will come up with an idea..and then I will think of the full story, break each idea down to chapters and then start from there.
I tend to jump around sometimes, but I still stay pretty grounded in the core story.
NTK: Do your characters have free will at all? Or do you control their every move?
LF: I am their master, their Lord. I am in control of all of their little lives…unless they gather their own self-awareness. Then the game is over.
NTK: (Laughs.) You're a cryptozoologist and supernatural/paranormal explorer. Have you ever participated in any paranormal investigations?
LF: Yes, the real deal. I have been a part of, party to and experienced more than the scope of this conversation allows. What I can say, with no reservations, is that it is all real. All of it. There are other worlds before our very eyes and things within it. Sometimes they speak and show us, other times, they sing in our dreams, but yes, I have known for many a year that this world is only one of endless worlds.. if we keep our eyes open equally as our spirits, we shall feel what most people fear.
At one point, many years back, I channeled a spirit to a family I knew in Los Angeles and answered questions I could not have known the answers to. It was strange and wonderful
And it allowed some kind of closure to previous issues they had. And I had no idea it was happening until it was over.
I don't mean to sound hokey at all, these things have just been with me for many years.
NTK: What is your favorite curse?
LF: My favorite curse? I am not sure I have one! (Laughs.) But I do like that movie, the Curse of La Llorona. It was pretty cool.
NTK: How about your favorite curse word?
LF: Well, I am not sure. I can bet you 666 dollars that my friends would say that it is FUCK. There are just so many ways to use it. I hardly ever use it in anger, unless I am by myself.
NTK: What does the future hold for you? What work do Horror Addicts have to look forward to?
LF: The future looks grim and bedazzled by horror…so it's awesome! Currently, my solo record called The Elder Sign is near completion. There are a few songs and videos for it out there now, but I have been taking it slow since the pandemic struck. I love it, though, it's a lot of heavy metal fun. For my band, Lords of October, we are about to start working on our next effort, Cryptozoology, again. We have had enough of this COVID and are taking measures to practice safely and record, too. We had only begun that record when Covid hit. Lots of groovy ghoulie songs. I have a story, along with my Lords of October frontman, Paul Counelis AKA Uncle Salem, on a new Bigfoot compilation called "Unimaginable." It's a lot of fun…I use my real name, David for that story…and another book of my own called The Anomaly. So much more, really…I do a podcast now, I Love Lucifer, and then there are other books, films…all kinds of stuff that people can read about at
There is more stuff always brewing…I just wanna get back into the world and play live again. I miss the people. I miss putting on the makeup and becoming Lucifer.
I could go on, too, ya see, because I am working with a lot of talented people, always, usually the guys in my band and the guys behind the Flint Horror Collective, which is a group I am a part of here in Michigan.
NTK: Thank you for chatting with me today, Lucifer! You've been a wonderful guest!
LF: And you have been a wonderful host. Thank you for this opportunity
Now, Addicts, enjoy this music video from Lucifer's band Lords of October!
Addicts, you can find Lucifer on Ghoul Cast, in his short horror film The Idol, and in his former band–Penis Flytrap. You can also read his Guide to the Italian Cannibal Film.