"Farm house, porch light

Let's go inside and stay for the night

Come see what I found

'Is it a big ancient book where the words move around?'

Just then the old man

Flailing around with a knife in his hand

Outside, best part

Never would've guessed that the car wouldn't start"

— "Horror Movie Song" from Cancer Killing Gemini
Welcome back to a new season of Horror Addicts. With this new season we went on the hunt for new theme music, and we scared up the perfect song from a great band: "Horror Movie Song" from Cancer Killing Gemini. Cancer Killing Gemini is a rock/electronic band from Boston, MA and describes their sound as "McCartney and Mutemath Meets Nine Inch Nails". They introduced themselves as follows (I don't have the heart to chop this up, it's too awesome): "I'm Eric, the singer, producer and songwriter. Chuck plays guitar and likes pie. He is also an excellent recording engineer. I consult with him often on recording and mixing. Andrew is the master of bass, funk, and style. Max plays keyboards and lends homo-erotic humor to all situations. Frank plays drums and is involved with any of the professional photographs or video for CKG."
When I asked about "Horror Movie Song", Eric said that he was in the middle of writing the song when he heard from Julie at Grave Concerns about the contest. "The timing couldn't have been more perfect. We were able to record and mix with about a day to spare before the deadline."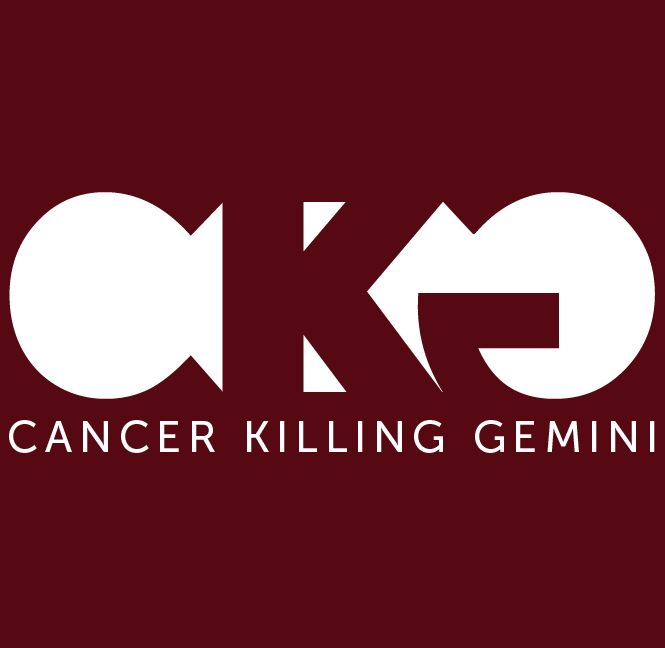 Cancer Killing Gemini has one of those band names that begs me to ask about what inspired the name. Eric said, "Cancer Killing Gemini started as a lyric in the song 'Christcontrol'. At the time, I assumed cancer from cigarettes or genetics would be the way I'd leave the planet. The other half is that my birth sign is Gemini. The secondary meaning behind the name is the story of a relationship gone horribly wrong. Cancer (she) is killing Gemini (him) slowly."
The band is recording and releasing one song every month for free, forever! Eric explained, "We're trying to navigate the 'new world of free'. Everyone expects something for nothing these days. Going against that tide is futile, BUT, putting a limit on free is reasonable. Our most recent 2 songs are always free, so if you stay current with the band, you can have all our new releases without spending a dime. The back catalog is always there for purchase. Fans who join up next year get the same deal but there will be 3 albums worth of catalog for purchase.
"A benefit I hadn't considered when we started was how much of a living history this would become. You can hear the band evolve if you listen in sequential order. We're not stockpiling songs and releasing them one by one; we're recording every month. If a new song gets written next week and I want to push the schedule back a month to release it immediately, that's what happens. It's quite a bit of work but it's also really fun."
The band has only been doing gigs together for less than a year and told me about one of songs they perform live. "We have a song called 'Prescription Drugs' about taking antidepressants / antipsychotics, etc. Sometimes when I'm introducing the song, I'll list off some common drugs (prozac, ritalin, etc). I love when people raise their hands as I call out 'their drug'. The song is all about getting past the stigma of needing help once in a while. If own can own it, you can get through it."
The band members have a very eclectic taste in music. "Between us, the influences include Black Keys, Jeff Beck, The Jesus Lizard, Ministry, Fiona Apple, King Crimson, Dr John, The Beatles, Deftones, Foo Fighters, Ray Charles, Big Black… it's all over the map." Eric added that he also likes Britney Spears and is "not a huge fan of jazz."
Eric has been involved with music since he was 13. "The first song I remember writing, playing and recording was called 'Sterile Rabbits'. It was about sterile rabbits. My last major project was a female-fronted electronic band called kittymonkey. Cancer Killing Gemini is decidedly more masculine, more lyrically straightforward and sarcastic, more fluid. While we do incorporate electronic elements into our sound, everything on stage is played live. There are no backing tracks / loops. I love the freedom of playing without sequences."
"Between the music, graphic art, video, social media and music business, my creativity is pretty well 100% focused on music in some shape or form. Chuck and Andrew both paint (in very different styles), Max likes to fix and restore old electronics and Frank stays busy with web and video projects. 2012 is our year for video. We just shot the footage for 'Taxidermy Song'. 'Horror Movie Song' may get a video by spring."
Eric has some great advice for other bands, much of which he shares on their blog. One piece of advice that stood out which I don't hear often is "make videos or die," which ties into their desire to produce more videos this year.
If you would like to hear more great music from CKG, you can visit their website at CancerKillingGemini.com, their Bandcamp page, on Facebook and on Twitter (@CancerKillingG). Also, CKG set up a discount code for downloading music from the Bandcamp page: horroraddicts